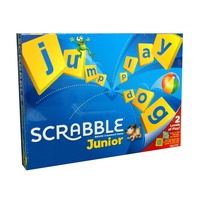 Scrabble: Junior Edition MAT51319
Description
Now children can enjoy the fun and challenge of Scrabble at their own level! Scrabble junior is two fun word games in one!
Scrabble junior has been divided into two levels. Level 1: words and pictures and Level 2: Colors and counters.
Level 1 the younger children start by linking the letters on the board and the pictures in turn help to turn them into words. Once the word is completed the player gets to collect a counter. Level 2 targets colors and counters. The older children enjoy making the words all by themselves in a simplified version.
For 2-4 players, ages 5-10.