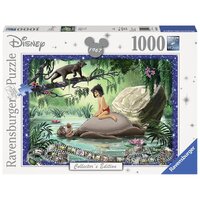 Ravensburger - 1000pc Disney Moments The Jungle Book 1967 Jigsaw Puzzle 19744-6
Disney films are a fond memory from everybody's childhood and now with this wonderful collection of puzzles you can reminisce on some of your favourites.
Originally released in 1967, the Jungle Book was the last movie actually produced by Walt Disney! Based on the stories of Rudyard Kipling, it has been described as thoroughly delightful...it is the happiest possible way to remember Walt Disney". This nostalgic movie can now be brought to life in your home with our 1000pc puzzle. Look for more 1000pc puzzles from our Disney Memories collection.
Finished puzzle size: 70 x 50 cm
Box Size: 38 x 27 x 6 cm"