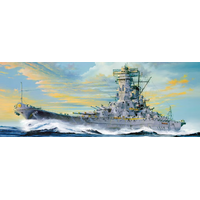 MonoChrome 1/200 IJN Battleship Yamato Plastic Model Kit MCTA140
Full length: approx 1315mm.
Full width: approx 194mm.
2800 parts.

- Yamato, the largest and only super-dreadnought battleship equipped with a 46 cm cannon, will appear in a 1/200 scale completely new mold.
- The number of parts is about 2800pcs, and etching parts (15 pieces) are included.
- Decals are set.
(THIS IS A PRE-ORDER ITEM)