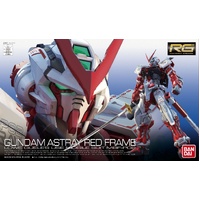 Bandai Gundam RG 1/144 MBF-P02 Gundam Astray Red Frame Gunpla Plastic Model Kit
What is GUNPLA
GUNDAM + PLASTIC MODEL = GUNPLA
GUNPLA is the common name for plastic models of Mobile Suits, Mobile Armour, and other robots or battleships that appear on the "MOBILE SUIT GUNDAM" series.
How to make GUNPLA
Before assembly, check the set contents and read the assembly manual for a smooth process.
Cut out the parts from the sprue frame following the steps in the assembly manual.
Assemble the parts, ensuring they are facing correctly.
Attach the decals. It is easier to attach smaller decals with tweezers.
Finish & Strike a Pose. Try experimenting with different equipment combinations and look at photos on the packaging for ideas on cool poses.
Ink in some detail. Take your GUNPLA to another level by inking in some line in between grooves using a GUNDAM marker, or an inking pen (sold separately)
Find your perfect GUNPLA
GUNPLA comes in many different series, from easy-assembly models to high levelled models. Find a GUNPLA that best suits your taste!
SD - Super Deformed: Non-Scale: Approximately 8cm tall. Recognized by their big heads and deformed body proportions, SD kits are very beginner friendly and are recommended for children.
Mega Size Model: 1/48 scale: Approximately 38cm high with large pieces for easy assembly
HG - High Grade: 1/144 scale: Approximately 13cm tall. A collectable series featuring a broad line-up of easy-to-assemble kits.
RE/100 - REBORN-One Hundred: 1/100 scale and from 18-30cm tall. Extreme detailed appearance. Sharp design equal to the quality of Master Grade.
RG - Real Grade: 1/144 scale: approximately 13cm tall. RG kits are great for builders who want to keep within the HG size but want more out of their kit. RG kits have more detail, like colour separation, and articulation to give a more realistic result.
MG – Master Grade: 1/100 scale. Approximately 18cm tall. The best proportioned and precise details, and a wide range of moveability. Due to their size, detail, and pose-ability, MG kits are considered a favourite amongst GUNPLA builders.
PG – Perfect Grade: 1/60 scale, approximately 30cm tall. The Ultimate Gundam. One of the largest and most detailed grades of GUNPLA kits. The PG line has significant external and internal details, from finger movement to articulation, and can integrate a LED lighting system with the kit (sold separately)
Recommended tools for assembly (Sold separately)
Sprue cutter
Tweezers
File
Hobby Knife
Gundam models do not require glue or paint, however sometimes GUNPLA modellers will apply an overcoat, lacquer, or weathering to perfect the model.