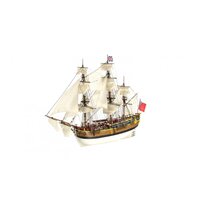 Artesania 1/65 HMS Endeavour 2021 Wooden Ship Model Kit 22520
HMS Endeavour was a British Royal Navy research vessel that Lieutenant James Cook commanded to Australia and New Zealand on his first voyage of discovery from 1768 to 1771. The ship is well known as the first European vessel to reach what is now known as Botany Bay.
The new modeling kit for the bark, formerly a coaling ship, HMS Endeavour contains birch and linden wood parts -high precision laser cut-, oak and linden veneers, much more realistic finishes with redesigned and very detailed photo-etched and die-cast details, and hand-sewn sails ready to be placed.